The bill passed the House at 10:47 P.M. EST with a vote of 219-212.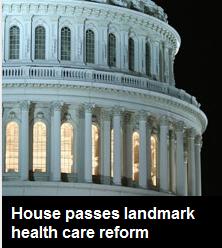 Oggi gli Stati Uniti sono un Paese un po' più civile e un po' più normale. Si parla della riforma sanitaria: è passata! È una vittoria di Obama, in una battaglia su cui aveva investito molta della sua presidenza, e dopo che un anno di balletti aveva insinuato del pessimismo anche nei più fiduciosi.
Ci sarebbero molte cose da dire, sull'inevitabile timidezza del disegno di legge passato a dicembre al Senato, sui repubblicani – che hanno parlato di Unione Sovietica, e sugli stupidi – che oggi hanno un pretesto in meno per odiare l'America.
Ora aspettiamo l'emendamento che potrebbe fare un passettino, ancora, più avanti e poi il discorso di Obama. Poi, per ora, buona notte.
EDIT: Olé! Pure l'emendamento (migliorativo) HR 4872, che ora ripasserà al senato.